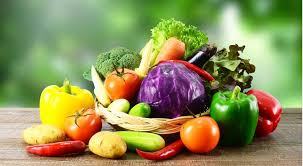 Fresh vegetables are the base of everybody's daily food consumption. A healthy or balanced diet is incomplete without fresh vegetables. The fresh vegetables provide our body with essential nutrients that boosts our immunity and protect us against chronic disease. Fresh vegetables are loaded with vitamins, minerals, antioxidants, and fiber and contain low calories. If our body is deprived of healthy foods, our immunity weakens that make us susceptible to dangerous diseases. All kind of fresh vegetables ranging from organic to exotic veggies such as broccoli, kale, celery, avocado, potato, tomatoes, onions, cucumber, cauliflowers, beans, carrots, radish, beet, coriander leaves, parsley, mushrooms, etc. are available in the market for the consumers.

Why is it necessary to eat fresh vegetables?

Fresh vegetables provide nutrients that are vital for health and maintenance of our body.

• Most vegetables contain low fat and calories.
• Fresh vegetables are the good sources of many nutrients, including, folate (folic acid), potassium, dietary fiber, vitamin A, and vitamin C.
• Vegetables rich in potassium are beneficial in maintaining healthy blood pressure and may also reduce the risk of developing kidney stones and help to decrease bone loss. Vegetable containing potassium include white potatoes, sweet potatoes, white beans, tomato, beet greens, soybeans, lima beans, spinach, lentils, and kidney beans.
• Dietary fiber present in vegetables is the part of an overall healthy diet and helps in reducing blood cholesterol levels and lowering risk of heart disease. Fiber is a necessary element for proper bowel function and helps in reducing constipation and diverticulosis. Fiber-containing vegetables help in providing a feeling of fullness with fewer calories.
• Folate (folic acid) present in fresh vegetables helps the body in forming red blood cells. Women of childbearing age who may become pregnant should consume adequate folate containing food like fresh vegetable help in reducing the risk of spina bifida, neural tube defects, and anencephaly during fetal development.
• Vitamin A present in vegetables helps in keeping eyes and skin healthy and helping to protect against infections.
• Vitamin C present in vegetables helps in healing cuts and wounds and keeping teeth and gums healthy. Vitamin C also aids in iron absorption.
• Eating a diet including fresh vegetables may reduce the risk for heart disease, including heart attack and stroke.
• Eating fresh vegetables may protect against certain types of cancers.
• Regular intake of fresh vegetables reduces the risk of heart disease, obesity, and type 2diabetes.

As, India is one of the largest fresh vegetable producers in the world, fresh vegetable suppliers in India are instrumental in providing a quality range of fresh vegetables in the world market. Consumers can rely on fresh vegetable suppliers in Nashik (India). The fresh vegetable suppliers make sure that the offered vegetables delivered to the consumers must be as fresh as directly cultivated from the farms resulting in high levels of nutrition. Moreover, the offered vegetables are available with them at a reasonable rate. The modern transit facilities of the vegetable suppliers ensure the prompt and safe delivery of the vegetables in bulk quantity.